Pokemon 591 • The Amoonguss Meme Explained • 2023
Who is Pokemon 591?
Pokemon number 591's name is Amoonguss. This detailed Pokemon 591 fung-guide will explain exactly why Pokemon #591 is the most suspicious Pokemon of them all.
Pokemon Number 591 is Amoonguss
So how did Amoonguss' popularity mushroom into supernova status? It sprouted and grew quickly as a trending topic with a run of viral Amoonguss memes – inviting the reader to play Detective Pikachu, Google Pokemon #591, and explore the story behind the meme.
Why is Pokemon 591 a Meme?
Pokemon 590 is Foongus; its evolved form, Pokemon 591, is Amoonguss. Together the couple is Foongus and Amoonguss, quite the spore-ting pair indeed. The toadstool's names draw inspiration from the mnemonic schoolhouse rhyme, "There's a Fungus Among Us." Watch your step! These two fruiting fungi need as mushroom to grow as possible and are known for stalk-ing their prey.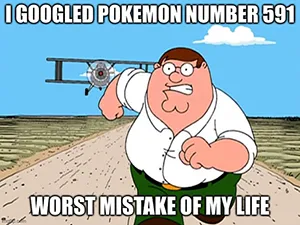 Pokemon #591 • The Amoonguss Meme
For the newly initiated, the Amoonguss meme adventure begins with a call to Google Pokemon 591. Fueling a steady stream of searches for the meaning of the Amoonguss meme.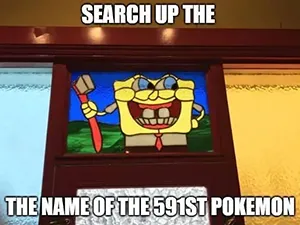 After reaching the next level of the Amoonguss meme journey, readers discover the exciting new and evolving world of Pokemon • Among Us crossover content.
What is Pokemon #591's History?
Pokemon 591 debuted in Pokemon black and white in September 2010. Ten years later, Pokemon 591's popularity exploded with a Reddit user posting a photo of Amoonguss with the caption, "There is 1 ditto amoonguss."

A few of the most popular memes play on the Among Us title screen, "Crewmate, there is 1 Imposter Amoonguss," with as many spinoffs as Spinda.
Why is Pokemon #591 Looking 'Sus'?
Sus is a slang term for the word suspicious. Urban Dictionary defines the word sus as: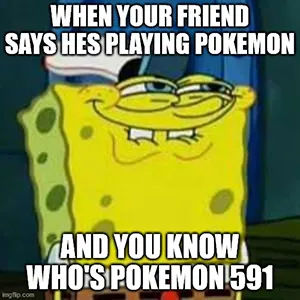 Crewmates and Imposters in Among Us
The Among Us game is set on a spaceship. Players are randomly assigned a character role of either a Crewmate or an Imposter. Because Crewmates and Imposters have opposing mission objectives, shenanigans and betrayal quickly ensue.

Crewmates can label fellow crewmates as sus if they suspect they are an Imposter. Crewmates can win by completing all their tasks or voting all the imposters off the ship in team meetings.

Imposters can win the game by sabotaging the rest of the Crewmates' tasks and killing Crewmates without being seen. Once Imposters reach a majority, they can no longer be voted off the ship.
YouTube Amoonguss Memes
YouTube • MandJayTV • Among Us Pokemon Meme Review
Among Us Pokemon Meme Review: This episode of "At some point in the past, I asked you" (ASPITPIAY), aka Pokemon Meme Review, features many Among Us memes on MandJayTV.
Pokemon 591 on Google Trends
These are, of course, only a few of the internet's thousands of Amoonguss memes. Since the Among Us game's 2018 release, the waves of Amoonguss memes have ebbed, flowed, and continuously evolved. The massive surges of interest have infused lasting power into Amoonguss' reputation. Beckoning the question: what will spur the next wave of the Amoonguss meme trend like the viral Shmoonguss Netflix category meme?

Where Does the Saying "A Fungus Among Us" Come From?
The phrase, A Fungus Among Us, is a meme-morel-able part of grade school and an inspiration for both the Pokemon and the Among Us video game. It has a catchy rhyme and is often used to teach children about the mushroom kingdom, in addition to jokes like, "Why did the fungi leave the party? Because there wasn't mushroom for him." A top-shelf science teacher joke.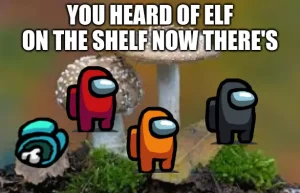 A Fungus Among Us is referenced in several songs. The title of these songs probably came from the wordplay of the phrase, which has been around for centuries. In 1958, Terry Noland wrote, "There Was a Fungus Among Us." Since then, the phrase has been a traditional sound bite of popular culture.
Of course, Pokemon isn't the only television show to adopt the title. Spongebob Squarepants, Darkwing Duck, Groundling Marsh, and Milo Murphy's Law have episodes titled "Fungus Amongus." No wonder the viral video game chose the name Among Us, which sparked the many Amoonguss memes we all know and love.
The Amoonguss Meme
While a simple Google search reveals that Pokemon 591's name is Amoonguss, the mashup of two fan-favorite franchises has broken new ground teeming with memes that fans of both titles can enjoy. So, the next time you play a Pokemon or Among Us game, you can rest easy knowing that this super-spirited mushroom's life is all good. And if you don't know, now you know.
You're reading the news post:
Pokemon 591 • The Amoonguss Meme Explained • 2023

.
Go here if you're looking for the Pokedex entry: